DR-1050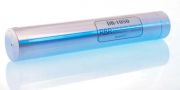 Click to zoom
View info document (222.99 KB)
View manual file (1.21 MB)
The DR-1050 is a small, self-contained, submersible depth or pressure recorder. Pressure measurements are made to 24-bit resolution. The DR-1050 is calibrated to an accuracy of ± 0.05 % full scale using NIST traceable standards. Each unit employs an absolute pressure gauge, with ranges selectable from 10 dBars (10 metres of water) to 6,600 dBar making the unit suitable for a wide range of applications from borehole testing to groundwater monitoring. For groundwater measurement, a barometric reference may be used to record the atmospheric pressure over the local area. An optional underwater serial output permits triggering of sampling apparatus at preset depths.
Flash memory ensures data retention for 20 years even if the batteries run out. 8MB of storage provides sufficient memory for 2,400,000 samples and a full set of samples can be taken by a single set of batteries. The two high-powered 3V lithium cell batteries (CR123A) are widely available, and provide enough capacity for deployments up to three years or more.
There are two external casings for the DR-1050: plastic and titanium. Both models are compact, measuring 230 mm in length and have an outer diameter of 38 mm. The plastic logger weighs 310 g and the titanium 500 g. The depth ratings for the different casings are: 740 m (plastic); 10,000 m (titanium).
The DR-1050 has a clock accuracy of ±32 seconds/year. It conforms to European Directive 89/336/EEC for EMC and EMI compatibility.
Manufacturer
17, Cratlands Close
Stadhampton
Oxford
OX44 7TU
United Kingdom
+44 (0) 1865 890979
+44 (0) 1865 890979
Technical specifications
| | |
| --- | --- |
| Depth rating | - |
| Max. pressure | - |
| Housing material | - |
| Power supply | - |
| Power consumption | - |
| Weight | - |
| Size | - |
| Accuracy | - |
| Resolution | - |