NEP-5000-LINK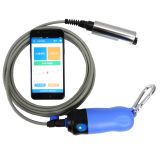 Click to zoom
Observatory reference: NEP-5000-LINK
Standard: NTU
NEP-5000-LINK is a wireless interface for the new NEP-5000 family of ANALITE Turbidity sensors. This new development allows the user to take field measurements and log the data directly to an Android phone or a Tablet.

The NEP-5000-LINK Hand-held solution is comprised of an Analite NEP-5000 auto-ranging turbidity sensor, a NEP-5000-LINK wireless interface and the NEP- LINK Android Application for your Bluetooth-enabled Android device.

Simple to operate, can be upgradeable and customized with a wide range of accessories. A NEP- 5000 is a compact self-cleaning, auto-ranging field instrument. The sensor is connected to the wireless module for quick field or process readings, record and export loggings, directly from the Android Application.
Manufacturer
8-10 Keith Campbell Ct,
Scoresby VIC 3179
Australia
+61 3 8706 5000
+61 3 8706 5049
Technical specifications
| | |
| --- | --- |
| Turbidity range | |
| Resolution | |
| Accuracy | |
| Linearity | |
| Light source wavelength | |
| Depth rating | |
| Power supply | |
| Max. power consumption | |
| Internal memory | |
| Communications | |
| Dimensions | |
| Weight in air | |
| Weight in water | |
| Materials | |